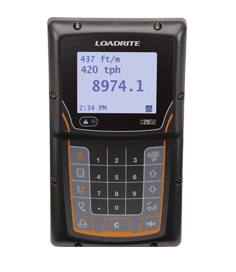 Advanced conveyor belt weighing
The LOADRITE™ C2850 is an advanced conveyor belt weighing system designed in particular for rugged industries like aggregate, construction, scrap metal recycling and mining. It is the ideal tool for monitoring inventory, production output and product load out, while providing essential data management tools to drive productivity and machine performance decisions. The C2850 is designed and engineered to the highest LOADRITE™ standards. The design is agile and rugged, consistently providing highly accurate weighing results.
The C2850 scale consists of four main components: The load cells, scale frame, speed sensor and an integrator which processes the signal from the conveyor belt scale. The load cells react to vertical forces, giving an accurate weight, while the belt speed is monitored by the speed sensor. The weight and speed signals are electronically converted to a digital weight, which appears on the display in pounds, kilograms or tonnes per hour.
A range of connectivity options like Modbus, 4-20mA to a PLC, Ethernet and printer make it very versatile for data transfer and integration into an existing communication infrastructure providing the best solution for our customers.