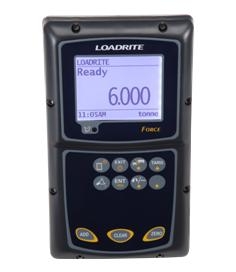 Simple but accurate on-board weighing
Now every machine operator can quickly and easily load trucks exactly to their target weight. The LOADRITE™ Force™ helps gauge accurate loading through its no-frills interface.
Industry leading weighing accuracy ensures trucks are correctly loaded before they get to the weighbridge. Wheel loader scales cut down on congestion and reduces waiting time increasing your customer's satisfaction.
Built on reliable field proven hardware, the LOADRITE™ Force™ is a user-friendly, high performance wheel loader weighing system. It has fewer functions than some of the other Loadrite models, making it a fast and easy system to use.
Just like the high-end L-2180™ and Express™ models, the LOADRITE™ Force™ is multiple-point weighing enabled. This feature allows weighing to be carried out in transit, without slowing down the operator.
The system is ideally suited to applications that require accuracy of loading, but for which more advanced features are not necessary.