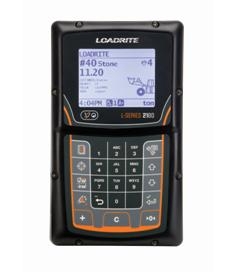 The most advanced wheel loader scales
Is your output optimized for maximum profits? Do you want to maximize machine utilization and minimize fuel usage? Can you benefit from improved efficiency?
The Trimble Loadrite L2180 is designed to produce an accurate and consistent weight every time. Consistent weighing performance is just as important as accuracy to efficient loading operation.
Using proprietary FACT™ (Friction and Ambient Compensation Technology) software, the L-2180 calculates an accurate weight, regardless of time of day, machine type, operator or temperature. Along with simplified usability and the same rugged reliability that Trimble LOADRITE stands for, the L2180 delivers a new dimension of consistent weighing performance.
What Can the L2180 Bring to Your Business?
Improve profits
Eliminate double handling of material by loading right first time
Avoid overload fines by ensuring trucks are loaded to the correct value
Reduce haulage costs by avoiding unnecessary trips caused by under loading
Process improvement
Track individual machine efficiency
Know inventory and stock levels
Monitor machine stress to schedule preventative maintenance
Increase productivity
Prevent truck turnarounds at the weighbridge, reducing cycle times
Sell more product without adding equipment or personnel
Achieve consistent loading from machine operators, regardless of experience
Sustainability
Minimize fuel usage of loaders and trucks and maximize tons per litre/gallon
Maximize the utilization of the machinery already on site by identifying unused capacity
Improve overall equipment effectiveness
Versatility
No matter what material you're loading, moving or managing, Trimble LOADRITE has expertise in applying our proprietary technology to a variety of wheel loader applications:
Aggregates
Scrap handling
Waste/recycling
Construction
Municipalities/Councils
Landscaping
Mining
Logging