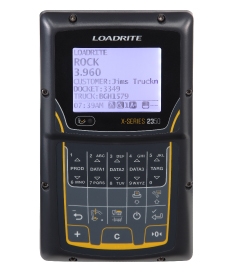 Improving excavator productivity
The LOADRITE™ X2350™ system takes 30 years of industry-leading wheel loader technology and combines it with many of the top-end features you'll find on our premium LOADRITE™ onboard weighing systems.
The result brings you new excavator load measuring techniques that are second to none.
The LOADRITE™ X2350™ improves your excavator's productivity by quickly, easily and accurately weighing the material in the bucket, and displaying the payload information on an easy-to-read monitor in your excavator's cab.
The X2350™ can deliver real financial benefits for any excavator loading application. The flexible feature set means it is suitable for common bucket excavator applications. Typical examples are pit-loading, construction, truck load out, crusher feeding, landscaping and material handling.